Redevelopment of Science Facilities
Providing excellence long into the future.
It is an exciting time here at St Joan of Arc as we are currently in the process of developing our site with the provision of a fantastic new Science block and Hall. We are pleased to say that the schedule that has been put in place is currently being maintained and so we expect the building will be completed and ready for students for the beginning of the autumn term 2023.
Below is an artist's impression of what the new building will look like and it will be a beautiful addition to our school. It will be a facility that the students can be proud of and an excellent environment for Science to excel in. This, along with our new hall, which will seat 400 students, will be an inspiring learning environment. The hall will allow for large assemblies to take place again helping to foster the community spirit of collective worship that the school holds dear to its heart.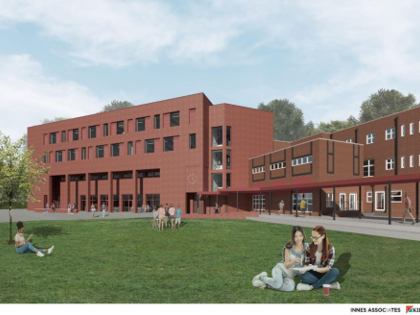 Whilst this work is being carried out we have been provided with state of the art temporary facilities which have enabled us to continue providing the excellent teaching and resources that our students are used to. These rooms are fully equipped with all the apparatus and equipment needed to deliver the best learning experience possible without compromise.
Most recently, students in Years 7, 8 and 9 participated in an 'Egg Drop' competition. This required students to create a craft to safely land an egg dropped from the third floor of the science block. The students worked hard and created some spectacular crafts. They received points for their planning, method, creativeness and success in protecting the egg.