Careers Support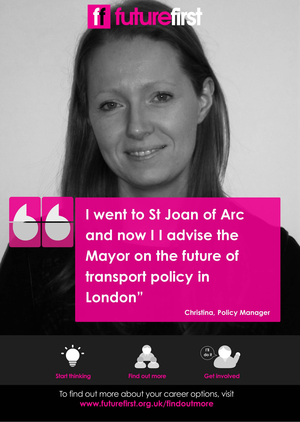 Our careers provision is designed both to help students explore potential career paths and to enable them to identify and articulate the key skills they have developed.
As the students progress through the school our programme encourages self-reflection, helping them recognise and develop the key skills demanded in the workplace and to communicate effectively the extent of their growing skill set to universities and future employers.
Alongside this, students in all years have the opportunity to access the schools careers programme. Our inspiring alumni driven "Slice of Life" talks offer opportunities to hear from a wide variety of professionals and ask plenty of questions. We provide frequent access to employers and highlights include: joa_futures twitter feed; Year 7 Science Inspiration Event; Work Shadowing for Year 8; Year 9 'World of Work' talks; Work Experience in year 12; Year 10 Bridge The Gap programme; and the National Apprenticeship Show at Excel for Year 11 to 13 students.
Schools are legally required to secure independent careers advice for all students and we are committed to providing a planned programme of careers advice and guidance for all pupils in years 7 to 13.
We work directly with David Ritchie Associates who provide age related engagement activities to enhance our provision and bring students into contact with employers and other education service providers.
Careerometer - Labour Market Facts and Figures
Careers Information and Research:
Study & Career Magazine -Feb 2020, Jan 2020, Dec 2019
@joa_futures - Up to date streamed careers, higher education and apprenticeship twitter feeds